SANOVO GROUP (EGG)
Via dell'Industria 68
I-36035 Marano Vicentino (VI)
Italy
EGG PACKAGING SOLUTIONS
Simple – Reliable – Robust
The Farmpackers are designed with your farm environment in mind. Simple, robust, reliable and flexible. Maximum up-time –100% correct packing – easy to maintain.
A dynamic, robust design, with the smallest footprint, made to pack eggs in the most natural way – straight line, point down! Thanks to their outstanding performance, proven robustness, low energy consumption, and easy maintenance, the Farmpackers are your best every-day-choice. This is why the Farmpackers are found in all corners of the world.
Models of Packer
FARMPACKER
(For Packing Commercial eggs)
Farmpacker 200
Advanced and functional sorting egg packer with the highest packing capacity through split-belt. Gentle, simple, durable egg handling with SANOVO Farmpackers.
Full stainless steel
Detachable accumulator
Multi-functional touch screen
Speed adjustment on-demand
Integrated split belt with 2x packing lanes
Other Models:
Farmpacker 40 – 14,400 Eggs/hr.
Farmpacker 70 – 25,200 Eggs/hr.
Farmpacker 100 – 36,000 Eggs/hr.
Farmpacker SX20 – 25,000 Eggs/hr.
Farmpacker SX40 – 36,000 Eggs/hr
HATCHERY PACKER
(For Packing Commercial eggs)
Most gentle egg handling solution available, specifically designed for handling fertile eggs. Transferring eggs into hatchery setter trays of different kinds.
The SANOVO Hatchery Packer gently transfers fertile eggs coming from the hen house onto setter trays, ready for transport to the hatchery. It runs with a maximum speed of up to 28,000 eggs/hour (78 cases/hour). For farms working with fertilized eggs, the hatchability rate is the ultimate measure for success. With its unique design, the Hatchery Packer positively contributes to that.
Air-cushioned rollers are used to increase sensitivity by which the eggs are transported. A suspended cup-conveyor system ensures a smooth egg conveying toward the transfer area with an egg point-down placement percentage of >99.8%. The hygienic open-cup design creates a maximum supporting surface area, considering different egg shapes and sizes. Finally, the long vacuum suction heads made of natural rubber move every egg safely into the setter tray. Automated packing operation with the Hatchery Packer increases hatchability rates and saves labor. We offer different models to fit your specific production and use of setter trays
EGG GRADING SOLUTIONS
More output with higher egg quality
In the food and egg processing industry, we have gained the reputation of producing solutions of the highest quality and performance.
Our egg graders handle all popular packaging throughout the world. We offer a wide range of mechanical and electronic graders that are flexible to be configured to local needs and demands. The lower capacity graders meet all the needs of free-range and cage-free producers.
Choosing an egg grader from SANOVO TECHNOLOGY GROUP, you get gentle handling of your eggs to each carton through the most advanced technology available, with superior labour efficiency, and lowest parts usage.
Our grading models
GraderPro
High-end next-generation egg grader based on state-of-the-art egg grading technology. Full efficiency, highest food safety standards, maximum hygienic design. "Every egg has a tag".
The GraderPro 110 runs up to 39,600 eggs per hour (110 cases/hour) and is the second-lowest capacity model in the GraderPro series with single egg traceability.
Full traceability

Maximum hygiene

High efficiency

Other Models:
GraderPro 75 – 27000 Eggs/hr
GraderPro 150 – 54000 Eggs/hr
GraderPro 220 – 79200 Eggs/hr
GraderPro 400 – 144000 Eggs/hr
GraderPro 600 – 216000 Eggs/hr
OptiGrader
OptiGrader 400
Setting higher standards in food safety, egg quality, cleanability, sanitation, and performance with the OptiGrader series for advanced egg grading.
The OptiGrader 400 handles 144,000 eggs/hour (400 cases/hour) at full speed. The details in the OptiGrader series design make a clear difference in machine efficiency and operating costs and become visible after challenging seven-day-weeks, in-line or double shift operation.
Other Models:
OptiGrader 600 – 216000 Eggs/hr
OptiGrader 707 – 254520 Eggs/hr
Alpha
Alpha 70
Egg cleaning grader provides egg producers with a robust, reliable, hygienic egg grading machine that gets the job done.
The Alpha is made for every production environment. In-line operation supported with an accumulator table, off-line operation with a FlexLoader – or both in combination.
With a maximum capacity of 25,200 eggs/hour (70 cases/hour), the Alpha 70 is an economical medium size capacity range grader. This SANOVO egg grader's key characteristic is its enormous flexibility due to the modular construction and easy upgrade capability to an Alpha 100 (36000 eggs/hour) and 125 (45000 eggs/hour)
Ardenta
Ardenta Egg Grader
The Ardenta represents higher capacity, more functionality, and better cleanability in tough production environments.
Ardenta 170 – 61,200 Eggs/hr
Ardenta 300 – 1,08,000 Eggs/hr
EGG PROCESSING SOLUTIONS
The increased demand for processed eggs in the food industry gives you the opportunity to turn your egg manufacturing plant into a profitable business.
With production and assembly in our European factories, we have been the world leader within egg processing for egg processing plants for decades. Today, we are trusted to deliver the best service and the highest machine quality globally.
Our customers benefit from our turnkey solutions and processes. Our concept includes consulting, installation, on-site training, food technology know-how and maintenance. Your dedicated contact person makes sure that all aspects of your plant are considered.
As a customer with SANOVO TECHNOLOGY GROUP, you have access to the most dedicated and experienced service technicians and all of their know-how within egg handling and processing. Whether you are considering to start processing or need to evaluate your current setup and performance, we welcome you to join the dialogue with our specialists within egg processing and handling."
EGG LOADING
FlexLoader
Robust egg loader machine for smaller, off-line grading or breaking operations. Maximum flexibility in capacity requirements due to optional destacker.
This egg loader is optimized for capacity of up to 48,600 eggs/hour. Tray stacks are placed by the operator on the infeed belt conveyor. The unique loader head ensures that the eggs are carefully lifted out of the trays, spread and delivered on the infeed roller table. Subsequent automatic stuck-egg detection and stacking of empty trays. A special characteristic of the FlexLoader is its flexibility. A de-stacker can be added to the configuration to scale the capacity.
Automatic de-stacking and stacking of trays
Suitable for both pulp and plastic trays (no change in settings)
Automatic detection of stuck eggs in trays (these are not stacked)
Automatic spreading of eggs onto conveyor for gentle delivery
Blow-back system for cleaning of the vacuum heads.
EGG ACCUMULATOR
Accumulator
Egg accumulation table series, flexible solution with different pre-accumulation lengths and row extensions. This egg accumulator is applicable for both grading and breaking lines.
Our egg accumulators get some structure into the incoming egg flow.
Different versions are available to adapt the tables to your specific capacity requirements with up to 216,000 eggs/hour (600 cases/hour). The speed of the pre-accumulation unit is controlled by egg sensors and guides, so all eggs are distributed equally to all lanes to achieve a filling rate of >98%.
That way you achieve an optimal feeding rate with a minimum amount of double eggs on the rollers. The tables are optimized for cleanability and based on hygienic design principles. OptiAccumulators have collecting trays under the entire egg accumulator as well as pre-installed spray bars under the belts for full CIP.
Up to 216,000 eggs/hour (600 cases/hour)
OptiAccumulator available with 76.2 mm pitch for grading operations and 85 mm pitch for breaking operations.
Pre accumulator belt is available in different lengths, to adapt to different production layouts (e.g. the position of the egg feed conveyor)
EGG WASHING
Egg Washer
Small electric egg washing machine, modular and adjustable to achieve flexible washing times. Double-action washing technology for maximum hygiene. Compatible with any egg breaker or grader in the industry.
The SANOVO Egg Washer comes in different forms and shapes. Depending on your requirement we, as egg washing machine supplier, design the washer for 6-8 or 12-16 rows with capacities between 10,800 eggs/hour up to 180,000 eggs/hour (30 – 500 cases/hour).
With the combination of short and long modules, we achieve various washing times. Each Egg Washer can be adjusted to your product.
The degree of dirt on the egg surface determines the washing time setting of the washer. That way the system prevents excessive washing with a consequent loss of eggs and reduced yield. You can choose between two different types of egg washing machines:
The Compact model with washing cabinet and flexible brush modules inside
The Modular model with double-action washing system, combining brushes and spray nozzles
EGG BREAKING
Sanovo egg breaking machines are developed to have the highest yield in the industry and the lowest possible environmental impact. It is equipped with state-of-the-art solutions, setting new standards for egg breaking machines.
Various Options and capacity ranges are available in 4 different categories :
BreakerPro – High Capacity
OptiBreaker Compact- Small to Medium
OptiBreaker Basic – Small scale
OptiBreaker Plus – Developed for market leaders
BreakerPro 12 (150,000 Eggs/Hour) and BreakerPro 18 (226,800 Eggs/hour).
Developed to have the highest yield in the industry and the lowest possible environmental impact. It is equipped with state-of-the-art solutions, setting new standards for egg breaking machines.
The breaking machine is pushing the boundaries of what's possible in regards to maximizing yield. Among all egg-breaking solutions in the market, the SANOVO BreakerPro has the absolute highest yield and most effective sustainability solutions, enabling our customers to produce at world-class performance level while protecting the environment.
All BreakerPro models come with an optimized gripper design, a longer machine frame, and an optional egg white recovery unit, which together can achieve up to 1% higher yield. On top of that, the BreakerPro comes with a green design, achieved through an optimized CIP system, leading to a reduction in water and chemical use and by ensuring that no water spillage occurs.
The BreakerPro also introduces a new advanced multi-color touch panel, multi-function LED bars, and an optimized scanner system – all to ensure the highest possible product quality and an improved operator experience.
Up to 1% higher yield resulting in a higher ROI
Green product design resulting in utility savings (water + chemicals + power)
Optimized yolk cup design and scanner system for cleaner egg white and higher product quality
New and improved multi-color touch panel, for easier operating and maintenance of the machine
Better and faster machine adjusting for increased uptime
Enhanced work environment for the operator by eliminating loose covers
Join the club of leaders within egg processing.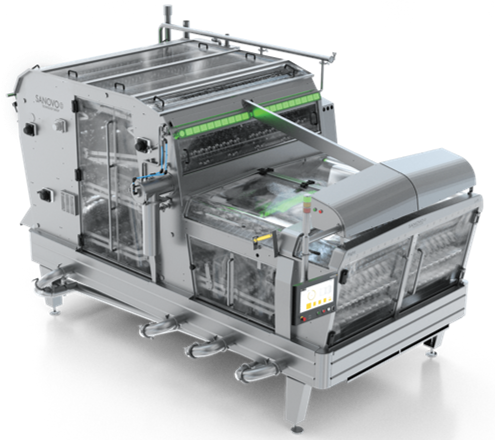 OptiBreaker Compact
Egg breaking solution for small-scale liquid egg productions. Leading technology for whole egg production, designed and constructed based on world-class egg breaking principles.
The SANOVO OptiBreaker Compact series is the perfect equipment for small- and medium-sized egg producers to break eggs for whole egg production. Designed and constructed based on world-class egg breaking principles and technology.
This 2 egg breaking compartment with cracker units ensures optimal breaking through the curve-controlled breaker bars. Eggshells are ejected by the built-in sanitary screw conveyor. Speed is controlled by an efficient frequency inverter. Large doors of the mainframe provide easy access to all vital parts – all to facilitate maintenance and minimize downtime. We recommend adding the optional automatic CIP (cleaning-in-place) system for ensuring a hygienic production. The OptiBreaker Compact is the most efficient machine for egg producers of whole egg.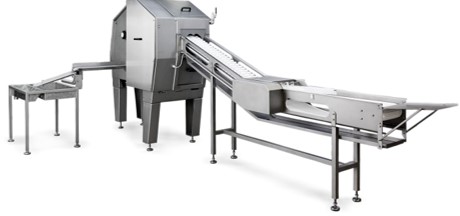 OptiBreaker Basic 2- 21,600 Eggs /Hr, OptiBreaker Basic 5- 39,600 Eggs /Hr, OptiBreaker Basic 6- 48,000 Eggs /Hr,
The industry-leading egg breaking and separation technology for small-scale, high-quality liquid egg productions.
The SANOVO OptiBreaker Basic series is the right choice for small-scale liquid egg productions to break and separate eggs with yield and quality equivalent to the largest and most efficient production facilities in the world. And it is a multi-talent: you can choose to operate without separation to produce 100% whole egg for more flexibility.
The Basic 2 consists of a 2-row egg-breaking compartment with 30 cracking units. Curve-controlled breakers bars ensure optimal breaking and separation for the most gentle handling of the valuable egg yolk.
The industry-leading SANOVO egg yolk scanning system based on computer vision inspects your egg white to produce high-quality products – optionally available to you. The 3.5″ color touch screen for operators let you access production data and alarms.
Product outlets are installed at the bottom of the machine storing the valuable liquid egg, while empty eggshells are ejected via a chute.
The machine speed is controlled by the efficient frequency inverter. All vital parts including cracking units are easy-to-access via large doors to facilitate maintenance and minimize downtime. For the most hygienic production, we recommend the optional CIP (cleaning-in-place) system.
OptiBreaker Plus 6
Developed for market leaders. The most advanced egg breaking technology in the egg industry. This egg breaker machine has the highest production yield, best-in-class separation technique, highly hygienic system. There is nothing better.
The SANOVO OptiBreaker Plus series is the most advanced egg breaker machines in the industry, developed for liquid egg processing market leaders. It is the result of close to 70 years of egg processing experience and collaboration with leading producers all over the world. The Plus 6 model processes up to 72.000 eggs/hour (200 cases/hour).       
The 6-row egg breaking compartment with 108 optimized cracker units serve 216 receiving and separation cups of liquid egg at an optimal, long draining time. Cam-controlled breaker bars ensure the best separation results. The standard OptiManagement system comes with automatic fault tracing, detail service surveillance including service update alarms, and utilizes the computer-vision based egg yolk scanning system as well as the intelligent automatic cup washing and air purging system.   
The 10.4″ color touch screen for operators let you access production data, alarms, and machine adjustments. NEW: SANOVO LinkPro for realtime monitoring of machine performance – anytime, anywhere. Now available for the OptiBreaker Plus Series. Product outlets are installed at the bottom of the machine storing the valuable liquid egg, while empty eggshells are ejected via the built-in sanitary screw conveyor. The machine speed is controlled by the efficient frequency inverter.       
 Naturally, the Plus provides a standard integrated CIP (cleaning-in-place) system, reducing manpower for machine cleaning. Easy maintenance for minimum downtime is key, so we added a number of key features; easy snap on/off system for receiving and separation cups, easily changeable cracker units, optional cam installation below the cups for manual inspections, and the standard large door dimensions for general easy accessibility.           
 There is nothing better. The OptiBreaker Plus Series is your solution for world-class egg processing operations.
OptiBreaker PLUS 6 – 72,000 Eggs/hr
OptiBreaker PLUS 8 – 90,000 Eggs/hr
OptiBreaker PLUS 12 – 1,44,000 Eggs/hr
OptiBreaker PLUS 18 – 2,16,000 Eggs/hr
EGG LIQUID PROCESSING
Liquid Egg Receiving Units
Installed after the egg breaking process receiving the liquid egg to control the liquid egg flow. Two options possible, either via collecting Vats or via continuous level sensors controlling the egg flow.
There are two options for further processing of liquid after the egg breaking section: Collecting Vats with a capacity of up to 130 litres, or a continuous level control unit for more flexibility. SANOVO Collecting Vats are designed for liquid egg processing but can be used for other kinds of food liquids as well. The standard level control ensures automatic start/stop of the pumps. Optionally, the Vats can be supplied with level control for maximum, medium, and low level.
The space-efficient SANOVO Continuous Level Control unit is an intelligent egg flow control system that adapts to your breaking operations. With Continuous Level Control you have a more constant liquid egg flow which results in better cooling conditions. Fully automatic CIP ensures that the system contributes to overall hygienic production operations.
Full food contact material approved (FCM)
Hygienic design
Suitable for all plant sizes
EGG PASTEURIZATION
PrimeLine
Entry-level, small and medium-scale processing plant designed around you. A strong standard configuration with highly flexible investment choices to fit exactly your requirements.
Enter the liquid processing market with PrimeLine! With production capacities starting at 500 l/h (egg yolk) and 1,000 l/h (whole egg and egg white), this solution allows you to harness the benefits of selling liquid egg. Suitable for any business, PrimeLine is designed around you.
The standard configuration always provides you with a safe production process and high product quality, ready for Plug N' Produce. Due to the layout flexibility and many available optimization options, PrimeLine is ideal for every small and medium-size egg processing setup.
Pasteurizer for salted and sugared products

Long production time and high efficiency
High killing rate
100% built-in CIP (cleaning-in-place), hygienic design, no cross-contamination risk
Skid-mounted with a small footprint and Plug & Go concept to reduce commissioning time
SCADA system for remote control, reducing manpower
PLC for automatic function control
Maximum energy efficiency through indirect heat regeneration circuit
Easy maintenance and inspection
Reversal cleaning for best cleaning efficiency
Remote service of the machine
Maximum food safety is ensured by exclusively using food contact material approved parts (FCM). That means, for this configuration all parts in contact with the product are made of stainless steel AISI316.
Choose your capacity between 1,000 – 15,000 liters/hour and your final product.
WAVE TECHNOLOGY
WAVE Technology System
Extended Shelf Life for liquid egg products. Achieving 10x times higher bacteria killing rate without product denaturation. Can be added to all Pasteurizer configuration.
This patented technology significantly extends your liquid egg product's shelf life with its innovative heat treatment method. WAVE is available in capacities between 1.000 – 10.000 liters/hour and works with every SANOVO Pasteurizer. Not sure about the impact on your product? No problem. Our test plant is ready for testing. SANOVO WAVE Technology works with pulsed ohmic heating to increase shelf life without denaturation of the product. This method is based on three key principles: speed, precision, and uniformity.
The high temperature applied requires a short holding time of the product, so speed is decisive. The temperature is close to the denaturation limit, so we need high precision. Lastly, both heating and holding time are short, so the product must be uniformly heated.
WAVE performs with industry-leading electrical efficiency and allows liquid egg producers to sell safe, highly competitive products of consistent quality to a larger customer base. It is the optimal choice for producers aiming for a longer product shelf life, but also for all producers who seek to achieve top-quality products or for niche market solutions (e.g. small pastry industry, special salty egg yolk, energetic drinks).
EGG WHITE TREATMENT
Egg White Concentration
System to concentrate egg white prior to drying. This is achieved by means of membranes as dry ultra filtration or reverse osmosis.
The Egg White Filtration system is configured to increase the dry matter of the albumen before drying. That is significantly reducing the load on the egg dryer by up to 50%. As a result, your total energy consumption used to run the dryer is massively reduced, saving overall production costs. We offer two different filtration methods to increase the dry matter of your product and meet your requirements.
This pre-assembled unit comes skid-mounted with integrated CIP (cleaning-in-place) for maximum food safety.
Egg White Desugaring
Setup for desugaring the egg white prior to drying for powder production. Achieved through the delicate process of fermentation.
The Egg White Fermentation process reduces the glucose (sugar) contents of the albumen, also known as desugaring. Glucose destabilizes the albumen, so by converting it in a fermentation process and through adding certain bacteria, the albumen is stabilized and results in high-quality egg powder after drying. The liquid egg white is stored in an Ovotank, where the fermentation process is initiated. Adding yeast, enzymes, or certain cultures influence the process and remove the sugar content.
After the desired concentration is reached, the fermentation process is stopped by cooling down the product. Fermentation is a delicate process and requires extensive know-how about the liquid egg, as well as biological insight to achieve successful results.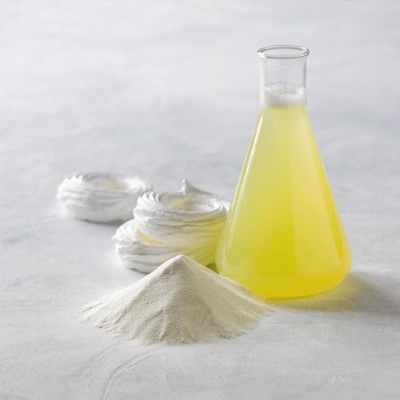 FILLING
Container Filling Plant
An automatic container loading system for transportable containers. Controlled via local PLC. Skid-mounted on a stainless steel frame with pneumatic valves.
The SANOVO Container Filling Plant loading system is a modular filling unit that can be configured from two to more filling stations.
The filling of the containers is controlled by a magnetic flow meter, and it is also suitable for the connection to weighing scales. Automatic valves control the filling, emptying, and CIP (cleaning-in-place) of the unit. All the valves and instruments are controlled by a stainless steel electrical panel with PLC and touch screen.
Bag-in-Box Filling
Automatic bag in box filling machine unit, designed to gently fill liquid egg products into flexible plastic bags with tap.
The highly hygienic Bag-in-Box filling unit is designed to fill liquid egg products into plastic bags in the gentlest way to avoid any foaming. The Bag-in-Box packaging equipment is always equipped with nitrogen injection, air vacuum of bags before filling, as well as automatic bag feeding. Automatic bag cutting, hepa filters, and many other options are available to obtain different levels of automation in your production setup.
Fills several sizes of bags – from a few liters to large containers
Product volume measured by magnetic flow meter and controlled by PLC and touchscreen
SPRAY DRYER
SGA Spray Dryer

Gentle, horizontal box spray dryer for high-quality egg powder production at the lowest possible energy consumption. ATEX-certified, food-contact-material (FCM) approved parts. Only box dryer designed and manufactured in Europe.
The spray dryer parts are designed for the production of high-quality egg powder with capacities of up to:
1,650 kg/h for egg yolk powder
626 kg/h for whole egg powder
590 kg/h for concentrated egg white powder
256 kg/h for plain egg white powder
Despite the high powder capacities, our focus is on low energy consumption to maximize the ROI per processed egg. We developed the horizontal air box dryer in the most hygienic design, with improved insulation, a simple operation, and with a long running time between cleaning cycles. Naturally, all parts in contact with the product are food contact material approved (FCM) for maximum food safety.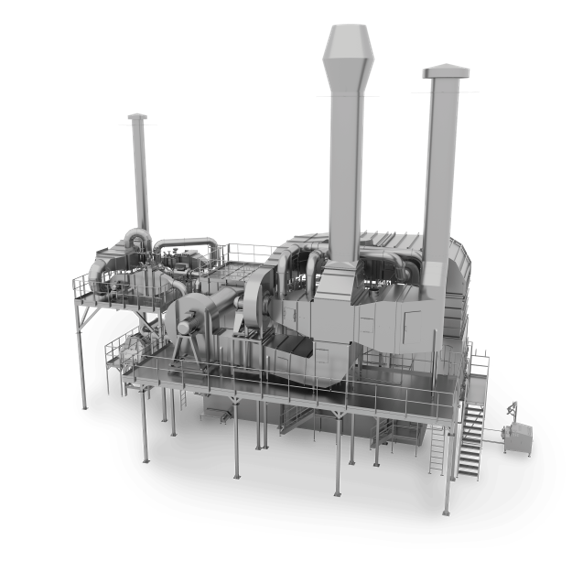 SHELL TREATMENT
SEC 60 – Eggshell Centrifuge
Eggshell processing during the egg breaking operation. Equipment for maximizing liquid egg ROI by recovering otherwise lost liquid from the eggshells.
The design of the egg breaking machine is maximizing the amount of liquid gained from the egg. However, some liquid will always stick to the shell itself. That is where SANOVO Eggshell Centrifuges come into play. SEC 60 recovers liquid egg from eggshells at a speed of 22,000 shells/hour (60 cases/hour).
Efficient separation of eggshells and liquid egg through centrifugal force
Reducing the overall volume of the eggshells as a waste product
Recovering remaining egg white from the eggshells after breaking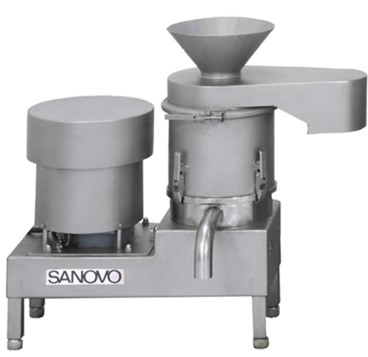 FILLING OPTIONS:

Bucket Filler SPS 24000C
Bucket Filler SPS 24000W
HARD-BOILING
SEPS 8400 (8400 Eggs/Hr) / SEPS 20000(20,000 Eggs/Hr)
High-quality egg boiling, cooling, and peeling system with efficient yolk centering for maximum yield. Designed for both white and brown eggs. Medium capacity model.
The SANOVO boiling, cooling, peeling system SEPS 8400 handles up to 8.400 eggs/hour (25 cases/hour). With this system, you can fully automatically boil, cool, and peel eggs in bulk according to your own specifications. Even though brown eggs are more difficult to handle than white eggs due to different properties, the SEPS 8400 can handle both.
The chilling tank, consisting of an egg drum with water agitation, a stainless steel conveyor, and a heat exchanger accompanied by a pump for ice water, treats the eggs for being in perfect peeling condition. The peeling section consists of an additional infeed conveyor, the patented peeling system, and a final conveyor belt for discharge and final control of the peeled eggs.
Efficient Yolk Centering System: High-yield-low-cost per peeled egg with boiler/peeler yield rate up to 98%
Low energy consumption per egg
High sanitary CIP standard
High cooling capacity
Operates with brown and white eggs
Other Models:
SEC 360 Centrifuge
SEC 700D Centrifuge
SUPERVISION SYSTEM

SCADA Automation
Complete customer-designed, flexible, PLC and PC-based supervision system for monitoring, integrated process control, and logging of all operational parameters.
SANOVO SCADA integrated supervision system offers many advantages. The system supports you in constantly monitoring your process value, ensuring more food safety, production optimization, downtime reduction, and easy troubleshooting. The complete integration helps to obtain the best efficiency of the plant at the lowest possible production cost. The friendly user interface, displayed via a multi-monitor setup, allows the operator to easily overview the complete process at a glance.
The SCADA is an open platform that allows the connection with existing IT infrastructures such as MES or ERP systems. Remote connection form service and web platform are also available.